Calendar
SATA Airlines Azores Pro 2013
Sport Events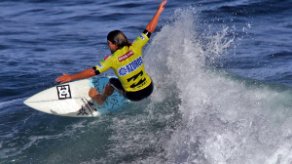 Date
From Tuesday 3 to Sunday 8, September 2013.
Information
The ASP 6-Star SATA Airlines Azores Pro will return in September 2013. The Men's 6-Star event running from 3-8 September will open festivities on Sao Miguel early in the month and will welcome a larger field of surfers with the larger format available this year. This will see more surfers travel to the Azores and battle it out in 2013.
Three works by artists Paul Avila Sousa, Luís Paulo Arraiano and Brum have joined the ...
Photography Contest delivery of work until April 30. For more information see the ...
Visit the Vulcanology museum, where you can learn more about the geology of the ...
Discover the Geosites of Santa Maria Island. Participants should go by their own ...
The SATA Rallye Açores is a test to tell the timing of European Rally Championship ...
Birdwatching is an activity growing in the Azores and photography is a hobby to ...
Largest religious festival of the Azores, has its high point in procession through the ...
The Azores Trail Run decorrere in the Natural Park of Faial, elected European ...
This is the third edition of the festival, which aims to give the food an increasingly ...