Calendar
SATA Airlines Azores Pro 2013
Sport Events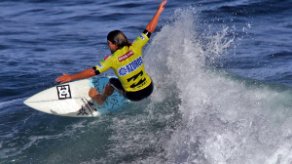 Date
From Tuesday 3 to Sunday 8, September 2013.
where
Ribeira Grande , São Miguel
Information
The ASP 6-Star SATA Airlines Azores Pro will return in September 2013. The Men's 6-Star event running from 3-8 September will open festivities on Sao Miguel early in the month and will welcome a larger field of surfers with the larger format available this year. This will see more surfers travel to the Azores and battle it out in 2013.
On 08th June will be inaugurated on whaling museum at 03:00 pm the exhibition "Marine ...
The Festival Walk & Talk Azores is the privileged setting of the Atlantic for public ...
The parish of Grass will once again stage an ethnographic high level meeting with the ...
Festas da Praia takes place every year during the first week of August. Here you can ...
The "Cais das Poças" Fest takes place on the first weekend of August. The Fest is ...
"Rome at the Colosseum" is intended to be the major theme of recreating the era ...
It is the biggest references in summer entertainment in the archipelago and the ...
The International Folklore Festival of the Azores is held annually and includes the ...
Ribeira Grande is the host city and the beach of Monte Verde the stage for an eclectic ...