Calendar
SATA Airlines Azores Pro 2013
Sport Events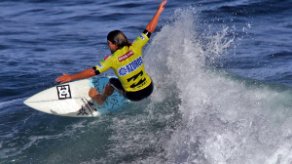 Date
From Tuesday 3 to Sunday 8, September 2013.
where
Ribeira Grande , São Miguel
Information
The ASP 6-Star SATA Airlines Azores Pro will return in September 2013. The Men's 6-Star event running from 3-8 September will open festivities on Sao Miguel early in the month and will welcome a larger field of surfers with the larger format available this year. This will see more surfers travel to the Azores and battle it out in 2013.
The CIMA 2014 is a meeting for people experienced in canyoning, able to descend in ...
Will be held 1-5 October over an international bridge tournament with a first prize of ...
This event will take place 3-5 October at the Batalha golf course. During 54 holes ...
Discover ancient paths linking Ribeirinha to Piedade along this 9,7km easy trail. ...
Discover the Land of Priolo! During two days you will be able to participate and ...
Always fascinated by the bang universe, Bruno Nogueira proposes to give another life ...
This is a course aimed at an adult audience and will have a total load of 28 hours, ...
The course will have a workload of 70 hours in labor time post. Join and spread among ...
The contest and show LABJOVEM 2014 - Young Artists of the Azores is a project of the ...