Calendar
SATA Airlines Azores Pro 2013
Sport Events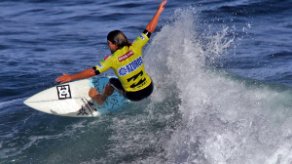 Date
From Tuesday 3 to Sunday 8, September 2013.
where
Ribeira Grande , São Miguel
Information
The ASP 6-Star SATA Airlines Azores Pro will return in September 2013. The Men's 6-Star event running from 3-8 September will open festivities on Sao Miguel early in the month and will welcome a larger field of surfers with the larger format available this year. This will see more surfers travel to the Azores and battle it out in 2013.
On 08th June will be inaugurated on whaling museum at 03:00 pm the exhibition "Marine ...
The 57th edition of the Summer Games Eurovisionsports will take place in the Azores in ...
SATA Airlines Azores Pro, Prime step of the global qualification (WQS) circuit, which ...
From the 3rd to the 8th of September, 2014 the first European Championships of ...
The Azorean seas are a favorite destination for lovers of big game fishing. In this ...
Azores Eurosurf Junior 2014 will be staged at Ribeira Grande on São Miguel's north ...
Will be held 1-5 October over an international bridge tournament with a first prize of ...
WINE IN AZORES will be held in Sao Miguel, Azores, on 24, 25 and 26 October 2014 from ...
After the success of the first edition and presentation of a show in Buenos Aires last ...