Calendar
SATA Airlines Azores Pro 2013
Sport Events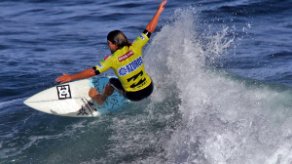 Date
From Tuesday 3 to Sunday 8, September 2013.
Information
The ASP 6-Star SATA Airlines Azores Pro will return in September 2013. The Men's 6-Star event running from 3-8 September will open festivities on Sao Miguel early in the month and will welcome a larger field of surfers with the larger format available this year. This will see more surfers travel to the Azores and battle it out in 2013.
Three works by artists Paul Avila Sousa, Luís Paulo Arraiano and Brum have joined the ...
In the Chapter Room, from Nov 2, Museum of Angra do Heroismo celebrates the 40th ...
The ANGRAJAZZ back to the Museum through this exhibition of photographer Jorge ...
The cribs contest is an initiative that aims to foster and preserve the culture and ...
André Furtado was born in Vila Franca do Campo, in 1986. Sport, art and nature have ...
Film series entitled "The Movies of My Books" selection of great literary works as ...
This exhibition recalls the region through panels of Terceira Island, the area of ...
Inauguration 23rd nov. at 05:00 pm. Declamation of Poetry by Maria do Céu Brito. 56 ...
This contest aims to promote for the public the geopark Azores, as well as encourage ...