Calendar
SATA Airlines Azores Pro 2013
Sport Events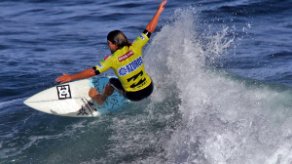 Date
From Tuesday 3 to Sunday 8, September 2013.
where
Ribeira Grande , São Miguel
Information
The ASP 6-Star SATA Airlines Azores Pro will return in September 2013. The Men's 6-Star event running from 3-8 September will open festivities on Sao Miguel early in the month and will welcome a larger field of surfers with the larger format available this year. This will see more surfers travel to the Azores and battle it out in 2013.
On 08th June will be inaugurated on whaling museum at 03:00 pm the exhibition "Marine ...
Azores Eurosurf Junior 2014 will be staged at Ribeira Grande on São Miguel's north ...
The new work of Milagres Paz has as its essence the establishment of a parallel ...
Will be held 1-5 October over an international bridge tournament with a first prize of ...
Ruben Bettencourt was born in Angra do Heroismo. Was exceptional scholarship from FCT ...
This event will take place 3-5 October at the Batalha golf course. During 54 holes ...
Always fascinated by the bang universe, Bruno Nogueira proposes to give another life ...
The contest and show LABJOVEM 2014 - Young Artists of the Azores is a project of the ...
Choosing "the" movie of our life is certainly a great challenge ... Shall an ...