Calendar
SATA Airlines Azores Pro 2013
Sport Events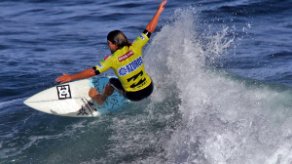 Date
From Tuesday 3 to Sunday 8, September 2013.
Information
The ASP 6-Star SATA Airlines Azores Pro will return in September 2013. The Men's 6-Star event running from 3-8 September will open festivities on Sao Miguel early in the month and will welcome a larger field of surfers with the larger format available this year. This will see more surfers travel to the Azores and battle it out in 2013.
Three works by artists Paul Avila Sousa, Luís Paulo Arraiano and Brum have joined the ...
The volcano capelinhos is the source of inspiration for many artists. Surfboards ...
The Matriz parish in Horta terminates the event of 500 years commemoration with the ...
Come to our park meet and discover our Poultry route between the airport and Ribeira ...
Contemporary dance solo by Maria João Gouveia.
Worksohp on medicinal plants, wild herbs and edible flowers. Come, we are waiting ...
"You know there are several plants with medicinal properties, which can have in your ...
On stage, "SongBook 2014," Sofia, Tozé, Rui and David revisit the songs that continue ...
Voluntary actions. Celebration of the Tree and Forest World Day. Come and enjoy.